Following an interview in the Zwettekrant, I received a call from Omrop Fryslân. They asked if I would like to share my experience of starting a business in Africa as a Western woman in their radio studio. What an incredible opportunity to put Owniez in the spotlight on local radio. Yet, I can't ignore the butterflies in my stomach; the nerves are kicking in. As I prepare, I wonder what I should talk about… there's so much to cover.
The day of the broadcast is approaching, and the mixture of excitement and nervousness is growing stronger. I've taken notes, wanting to remember everything. How much time will I have? And I must remember not to advertise, as that's not allowed on the radio. So, I won't mention the company my husband works for, as that was the reason for our move in 2017. Uh, he works for the most well-known beer brand in the Netherlands… would that be allowed? We lived and worked in Africa for five years; how can I summarize all that information in just a few minutes and make it engaging and captivating?
On the morning of the broadcast, I stand in front of the mirror, my heart pounding in my chest. I give myself encouragement, reminding myself of my passion for Owniez and what it stands for. I want to ignite excitement in others for the sustainable and creative possibilities our flip flops offer.
As I walk into the radio studio at the beginning of the afternoon, I feel a mixture of nervousness and determination. After getting acquainted with the radio hosts, Diana and Ciska, we're ready to begin. The microphone is set up for me, the red lights come on, indicating that we are live.
Ilse Dijkstra from Zwaagwesteinde… is married to a man who has to go to Mauritius for his work. She also wants to get active herself and she notices that in the warm climate of Mauritius, flip flops are incredibly popular. But there's one problem, she finds them a bit boring! And so, she starts designing colorful, unique, and especially sustainable flip flops, and that becomes a success. Good afternoon, Ilse…
I'm allowed to respond and I'll start right away with a correction… Curious about how this turns out? Watch the episode first*. (*For the English speaking people you can put on the subtitling)
I start talking about Owniez, my voice trembles a bit at first, but as I speak, I find my rhythm. I share about the personalized design possibilities, the array of colors and materials, and how we prioritize sustainability. With passion, I narrate the story of how Owniez came to be, how you can design your own flip flops.
As I speak, I notice the nerves slowly fade away, replaced by enthusiasm. I feel in my element as I discuss something I'm truly passionate about. Time seems to fly by, and before I know it, the broadcast comes to an end.
Looking back on the moment, I realize that the butterflies in my stomach were simply a sign of the excitement that came with sharing the Owniez story with a larger audience. The experience has reinforced my belief that sustainability and creativity can go hand in hand, and I'm proud to have represented Owniez on Omrop Fryslân radio.
With a smile, I leave the studio, feeling immensely proud, knowing I've been able to convey the Owniez story and inspire others to make their own 'sustainable' mark on the world, step by step… or in this case, flip flop by flip flop! 😊
Owniez Flip Flops, in collaboration with Omrop Fryslân, presents exclusive designs that capture the essence of Friesland. These unique flip flops embody the heritage and culture of Friesland while promoting sustainability. These flip flops are specially designed for the prize winners of Omrop Fryslân. Would you also like to order a pair now? You can! We now offer the opportunity to acquire these flip flops. Order them today and proudly wear your pride for Friesland!
"Step into Creativity, Walk with Artistry."
The winners of the Omrop Fryslân contest were faced with a unique choice among their prizes. While there were various coveted options, the overwhelming preference leaned toward a particular prize – the flip flops adorned with the captivating design of Skûtsjesilen.
Skûtsjesilen, the beloved sport of sailing traditional Frisian cargo ships, held a special place in the hearts of the winners. The design on these flip flops beautifully captured the essence of this iconic sport, with colorful sails billowing in the wind against a backdrop of serene Frisian waters.
The choice had been clear, and these unique slippers not only adorned the feet of the Omrop Fryslân prize winners but also carried a piece of Friesland's rich culture and tradition with them wherever they went.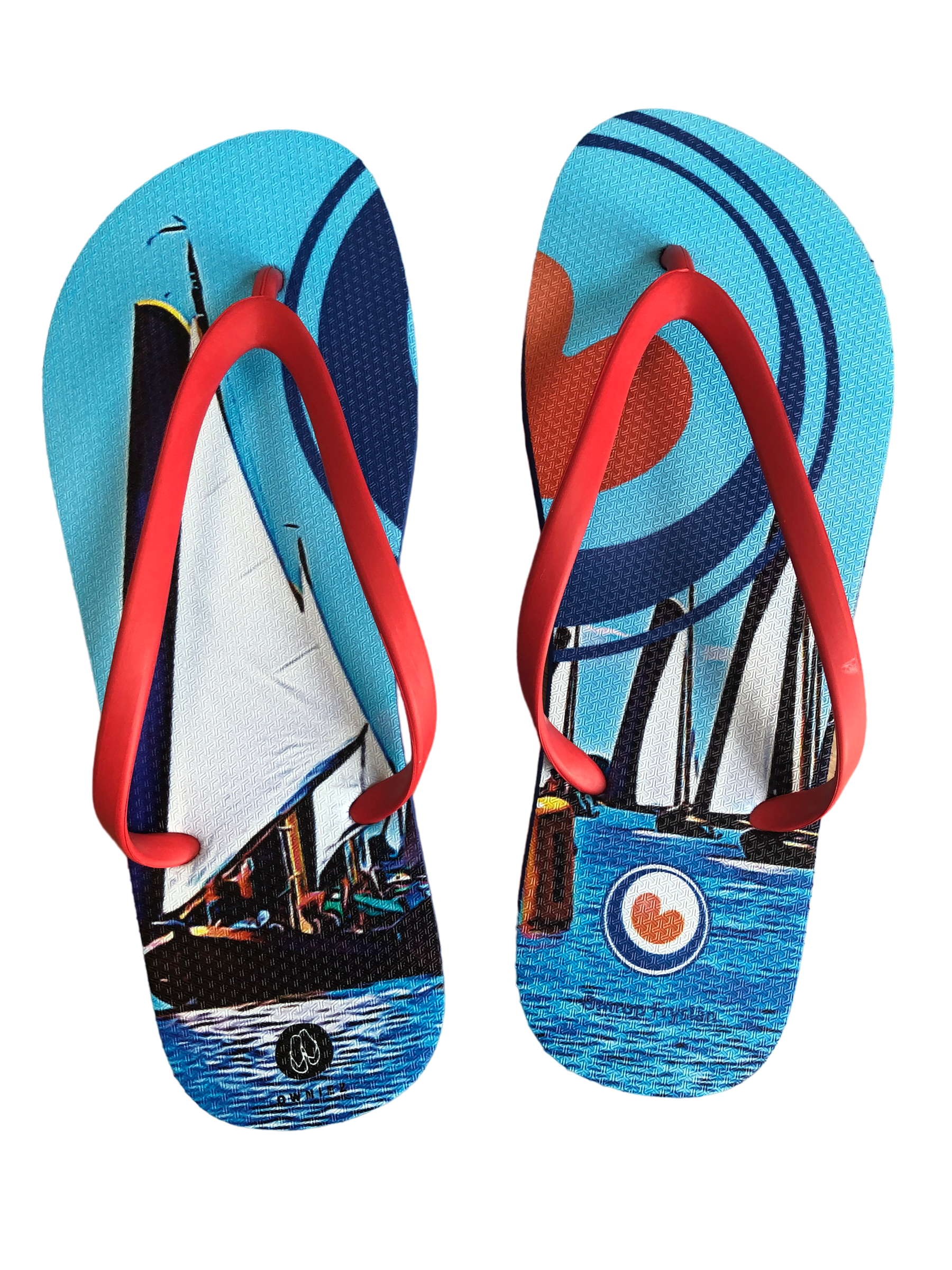 Would you also like to order these unique flip flops?
Fierljeppen – boys and men
Skûtsjesilen – girls and women
Sneekweek – girls and women

Skûtsjesilen – boys and men

Fierljeppen – girls and women

Keatsen – girls and women