COLORING PAGE ON FLIP FLOPS
Unique flip flops for kids
We make your live easy as a parent because you can instantly download and print our blanco OWNIEZ coloring pages. Your child can now start being creative. Give them nice bright color markers and make sure that no white is visible on the coloring page when the page is finished. When the coloring is done, don't forget to write down the name of your child. Because that is also what makes this coloring page, which we transform into flip flops, so unique.
download here your coloring page
Zoo Flip Flops
Color all the animals of the zoo and then print your coloring page on flip flops.
Pony Flip Flops
Coloring the pony with a rainbow in the background and don't forget the stars.
Pirates Flip Flops
Color your own story on this pirate coloring page and we will print it on flip flops.
Holiday Flip Flops
On vacation you want to go in the pool of the slide, wow let's start with all colors.
Formule 1 Flip Flops
Color the Formule 1 sports car and the pit lane with the most beautiful colors.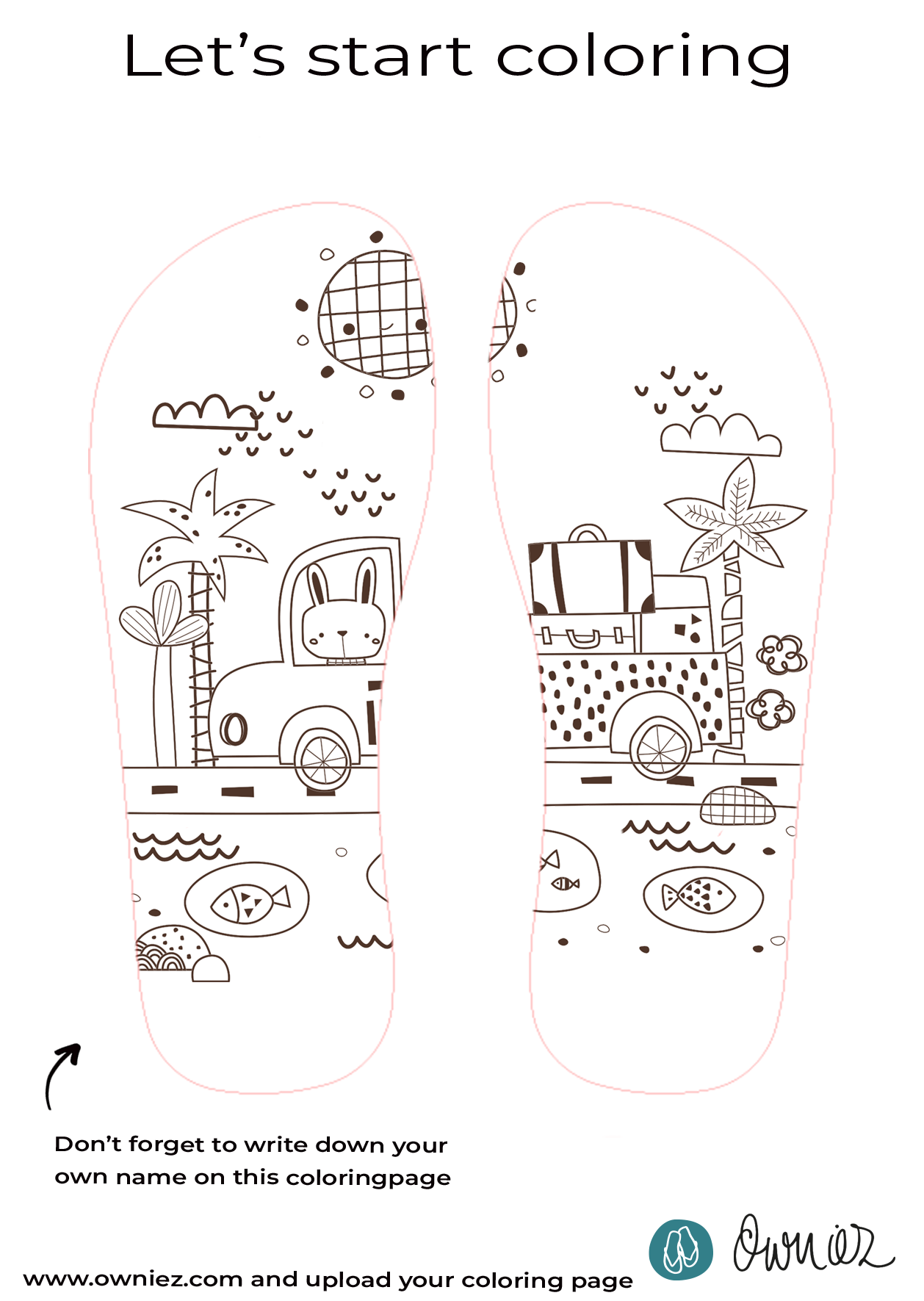 Rabbit Flip Flops
For the youngest children among us, a rabbit goes on holiday and takes with him.
Unicorn Flip Flops
Show your sparkle and start coloring the unicorn flip flops with great colors.
Summer Flip Flops
Coloring page for all the older children who have an eye for detail and bright colors.
Skûtsjesilen Flip Flops
In Friesland skûtsje-silen (sailing with historical flat bottom boats) is a top event.
Leeuwarden on your own Flip Flops
Leeuwarden is the capital of Friesland in the north of The Netherlands. A town filled with architecture.
Camping Flip Flops
Camping is one of the most amazing things to do. Get your tent, gear and plan your own camping holiday.
Beach Flip Flops
Kids playing on the beach with a lot of sand building sandcastles. Wow have a look at that sailing boat.
Blank Flip Flops
DIY, draw your own coloring page on these blank flip flops and be 100% unique.
THROW A FLIP FLOP PARTY
Are you looking for a creative idea for your chil'd birthday? Turn it into a flip flop party! All invited children will have a great time coloring and drawing, but being able to suprise them afterwards with a pair of flip flops with their creations printed on them is undoubtedly the icing on the cake! After the party, we will ensure that all your child's friends get their flip flops in the correct size and design.
Want to learn more about how to host a flip flop party for your child, or would you like to make a special group request?